Massive new MBTA station and garage at Wickford Junction, RI
Photo for Callboyby Doug Scott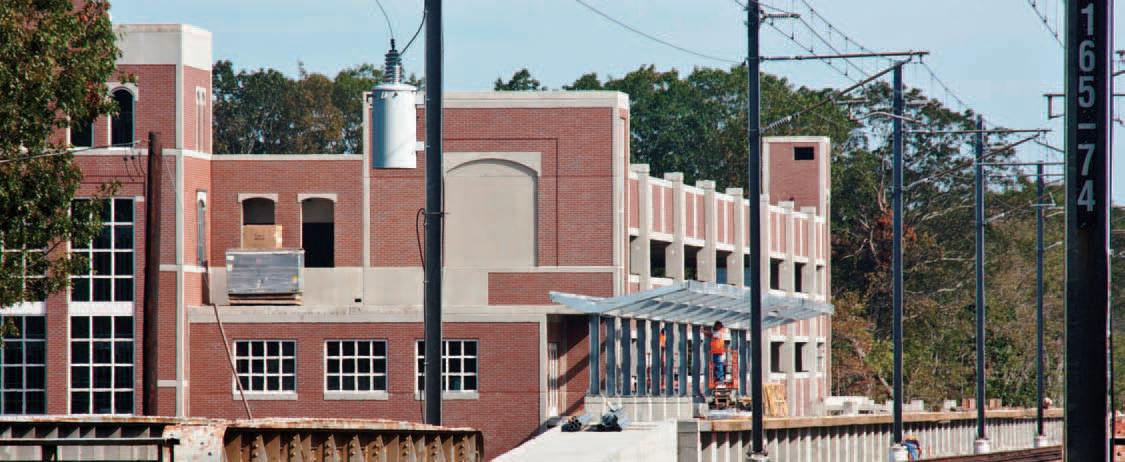 Providence & Worcester
Fall Circle Tour
October 15, 2011
We departed promptly at 9 AM, backing out of the P&W yard, under the CSX (ex-Boston & Albany) Boston Subdivision mainline bridge and up the ramp by abandoned New Haven signal tower S.S. M-334 to ex-Boston & Maine territory outside Worcester Union Station. We planned a close connection with MBTA Worcester local #P553, but found that signal repairs on CSX had delayed it well past its scheduled 9:09 AM arrival. At 9:36, #P553 finally showed up and 45 passengers made a quick transfer to our special.
By 9:50 we were south of the P&W yard limits and rolling at track speed down the original (1844) main line to Providence, normally freight-only. We skipped a photo stop at Millbury, five miles down the line, to make up time from the delay waiting for #P553. (As the day wore on, we had to wait about half an hour on the Northeast Corridor for two southbound Amtrak trains to pass. Second thought: we might have squeezed in that photo stop after all!)
At Boston Switch, where the P&W meets Amtrak, we entered Track 3 (known as the "Third Iron") to keep out of the way of Acela Express #2253, due in Providence at 11:49 AM, and Regional #163, a half-hour behind. We made our way along the former Northup Avenue freight yard, now an Amtrak maintenance base and industrial park. The new MBTA commuter-train layover yard was clearly visible on our left.
Beyond Providence, #2253 caught up to us at Atwells interlocking; after he passed at 11:53 AM, the Corridor dispatcher let us continue down Track 3 to Apponaug. At Warwick, we ran below the new Inter-Link intermodal station that serves T.F. Green Airport and a few MBTA commuter trains. Before we reached Apponaug, #163 went by at 125 mph. We entered Track 1 and headed south through East Greenwich. At Davisville, we crossed to Track 2 to run around a crane working on the massive Wickford Junction station. West of Stonington, we saw two replacement bridges on barges, almost ready for floating into place on the long causeway where eastbound NH #14, the Bostonian, was caught by the storm surge of the Great Hurricane on September 21, 1938.