Don't the return of Mass Bay RRE's exclusive steam photo special!


'VALLEY STEAM EXTRAVAGANZA 2022'




on Connecticut's Valley Railroad


A Double-Headed Photo Event and Tour of the Line
with 2-8-2 Steam Locomotives Nos. 3025 & 40!


One day only - Sunday, October 30, 2022!
Join Mass Bay RRE for specially-chartered train excursion on Connecticut's Valley Railroad, featuring "double-headed" steam power with two locomotives from the Valley Railroad's active steam roster: 2-8-2 New Haven 3025 and 2-8-2 No. 40 (Alco-Brooks, 1920).
We'll depart from the Valley RR's Essex, CT station at 10:00 AM and first head south to Old Saybrook, where the Valley connects with Amtrak's Northeast Corridor. We'll stop for the first photo runby of the day on the way back to Essex, where a cookout lunch and engine house tours await.
Following the lunch break, we'll reboard our special train for a trip along the scenic Connecticut River, traveling north as far as time and operating conditions allow. We'll be making at least two additional photo stops with multiple runbys during the afternoon trip, before returning to Essex around 5:00 PM.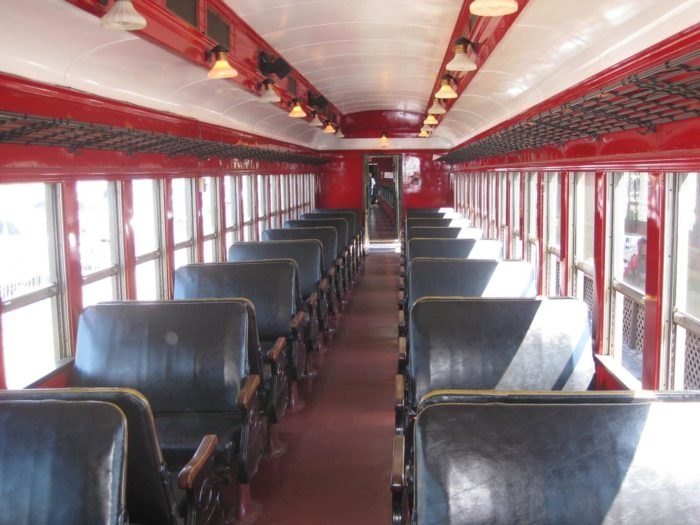 In addition to unreserved seats in the Valley Railroad's vintage coaches (right), there are a limited number of deluxe seats available in the First-class Parlor Car Great Republic for an additional fare.
The Great Republic (left) is a unique parlor car with 34 individual swivel seats. It was built by the Pullman Company and used on the New York, New Haven & Hartford Railroad's "Yankee Clipper" train between New York City and Boston. It was acquired by the Valley Railroad in 1991 and placed into revenue service in 1994. The additional Parlor Car fare includes complementary snacks and beverages. SOLD OUT!
An engine house tour is included for all passengers. An optional cookout lunch (burgers, hot dogs, chips, brownie & beverages) is available during our stopover in Essex for an extra fare. Other than in the Parlor Car, there will be no snack or beverage service aboard the train.
This trip operates ONE DAY ONLY, rain or shine. All sales are final and tickets are not refundable. Tickets will be mailed to you about 10 days prior to the trip; we will send driving directions to the departure point in Essex with your tickets. Please notify us if special accommodations (handicap seating, etc.) are required.
FARES:
Sunday, October 30, 2022 'Valley Steam Extravaganza 2022':
CHOOSE SEATING OPTION 'A' OR 'B' BELOW:

Option A - COACH: (Includes unreserved coach seat & engine house tour.)
Mass Bay RRE Member Coach seat..................................................$79*
Non-member Coach seat...................................................................$89
Youth (age 18 & under) Coach seat...................................................$49
Option B - 'GREAT REPUBLIC' PARLOR CAR: (SOLD OUT as of 8-14-2022!)
Mass Bay RRE Member Parlor Car seat.............................$179*
Non-member Parlor Car seat..............................................$209
Youth (age 18 & under) Parlor Car seat.............................$149
*One discounted seat per Mass Bay RRE member, except as noted in our Member Benefits policy.

THEN SELECT YOUR ADDITIONAL OPTIONS (IF DESIRED):

Cookout Lunch ((burgers, hot dogs, chips, brownie & beverages) .....................$20

HOW TO ORDER

ORDER ON LINE! 'VALLEY STEAM EXTRAVAGANZA' ON-LINE ORDER FORM Pay with PayPal or your Visa, MasterCard, American Express or Discover card using our secure on-line system.

MAIL ORDER: Download a printable copy of the Trip Flyer and Order Form and mail it with your payment to: Mass Bay RRE, P.O. Box 4245, Andover, MA 01810-0814. Make checks payable to "Mass Bay RRE." If paying by credit/debit card, be sure to include complete card number, card billing address, expiration date and CVC Code (3 digits on back of card, 4 digits on front of American Express cards).

BY TELEPHONE: Telephone orders are accepted at 978-470-2066, Monday through Friday from 9:00 AM to 7:00 PM. We accept Visa, MasterCard, American Express and Discover cards. We can also take orders to be paid by check, so long as payment is received within 5 business days of placing the order.

Full particulars of the tour and directions to the boarding locations will be sent with your tickets about seven to ten days before the trip. For further information please call our information line at 978-470-2066, or send e-mail to: trips@massbayrre.org.

Mass Bay RRE is a non-profit [501(c)(3)] Massachusetts educational corporation.

Site maintenance by Members of Mass Bay RRE.
Page updated October 21, 2022

<!td width="290" valign="top" bgcolor="burlywood" > <!td width="10" valign="top" bgcolor="burlywood" >