<!td width="10" valign="top" bgcolor="burlywood" ><!/td>
<!blockquote>
Welcome Aboard!! Whether your interest in railroading centers on rail travel, photography, history, models or just a love of trains,
Mass Bay RRE is for you!
<!hr width="40%" align="center" /> Massachusetts Bay Railroad Enthusiasts, Inc. is a non-profit [501(c)(3)] educational corporation, organized for the promotion of public interest and understanding of railroads. In Mass Bay RRE you'll find amateur and professional railroaders who share your enthusiasm for the rails, and are quite willing to share their experiences with you.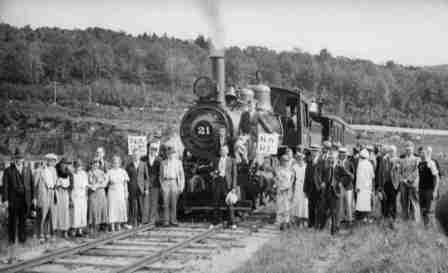 Mass Bay RRE traces its beginnings to 1934, when our founders sponsored what has been called the first "railfan trip" in the United States on the now-abandoned Hoosac Tunnel & Wilmington Railroad. Since then, we have sponsored hundreds of railfan excursions, many of them over "freight only" tracks. Our trips have covered almost every past or present New England rail route. Today, 87 years after that "first fantrip", Mass Bay RRE continues to organize specially-chartered excursion trains throughout New England.

See our Membership Page for information about Mass Bay RRE membership and a membership application. Mass Bay RRE members receive our newsletter, the Callboy, which is published 10 times a year and features a compilation of railroad industry news, as well as information on all upcoming Mass Bay RRE train excursions, programs and activities.
Members also receive discounted fares and/or preferred seating for most Mass Bay RRE train excursions and events. And, some smaller-capacity trips and events are advertised only to our members. Your Mass Bay RRE membership card can be used for discounted admission to selected New England tourist railroads and museums. See our member benefits policy for a complete listing of member benefits.
---
Time to step up! Board candidates wanted!
Our Nominating Committee is seeking people who are interested in serving as a club officer or on our Board of Directors, as we look to transition to a new generation of leadership for Mass Bay RRE. If you want to help shape the future of the club as we head toward our 90th year, we want to hear from you!
Visit the Nominations Page for more information on how to apply.
---
MASS BAY RRE PROGRAM MEETINGS
See Meetings Page for schedule and complete details of all programs.

Programs including railroad industry experts, tour experiences, railroad technology, classic rail-related films, and much more!
We continue to hold monthly Third Thursday program meetings that can be viewed remotely via Zoom Webinar. They are also simultaneously live-streamed on the Mass Bay RRE Facebook page. Video of our Third Thursday programs is available for later viewing on Facebook or the Mass Bay RRE YouTube channel. You can access our Facebook page using the button at the top of this page, and you DO NOT have to be a Facebook user to access our live stream!
We will occassionally hold in-person Third Thursday meetings at the Union Church in Waban. See our Meetings Page for details.
Our next 'First Tuesday Members Night' meeting will be live-streamed on Zoom and our Facebook page on Tuesday, November 1, 2022. If you have some slides or video that you'd like to share, please contact us (contact info below)!
Please contact us at trips@massbayrre.org or call us at 978-470-2066 if you have further questions or concerns.
---
We truly believe that much of the fun of a trip is in getting there - on the train. This 19-minute video captures a variety of Mass Bay RRE' train excursions, as photographed by our members. We hope it inspires you to join us on a train excursion soon!
---
FIRST TUESDAY SOCIAL MEETINGS:
See Meetings Page for detailed schedule.

Newsletter Mailing; Informal Member Slide or Video Programs; Board Meetings. (NOTE: In-person meetings are suspended until further notice - see Coronavirus notice above.)

<!a href="events.htm#other"> <!EXCURSIONS PAGE> <!/a> <! for details.> <!/p> <!p> <!em> <!strong> <!img src="DiscoveRailLogo.JPG" alt="DiscoveRail Logo" width="127" height="82" hspace="10" vspace="5" align="right" /> <!Saturday, April 17, 2010, 10:00 AM to 4:00 PM: > <!/strong> <!/em> <!span class="style9"> <!DISCOVERAIL> <!/span> <!,> <! our annual spring exposition of New England railroading, featuring New England's many tourist railroads and railroad museums. On the main concourse at Boston's South Station. > <!a href="DiscoveRail2010.pdf"> <!DiscoveRail Details> <!/a> <!/p>
---
THE H. ALBERT WEBB MEMORIAL RAILROAD PRESERVATION AWARD
Mass Bay RRE member Leigh Webb created the H. Albert Webb Memorial Award in 2003 to recognize his father's love for New England railroading. Mass Bay RRE acts as Mr. Webb's agent in soliciting applications for the award, reviewing the completed applications, and administering the grants as they are used. A single $10,000 award is made annually.
The Maine Narrow Gauge Railroad & Museum of Portland, Maine is the recipient of the 2022 Award, which will enable the club to begin the restoration of Bridgton & Saco River Coach No. 15 "Pondicherry."
THE MASS BAY RRE RAILROAD PRESERVATION FUND
Mass Bay RRE established the Mass Bay RRE Railroad Preservation Fund in 2016 to support additional worthy railroad preservation projects in New England. Grants are awarded annually, funded by the Club's available funds and donations to the fund from members. In 2021, 14 organizations received a total of $30,000 in Mass Bay RRE Preservation Fund grants, ranging from $500 to $4,000. See the Preservation Page for a complete listing of Grant recipients.
2023 Award Applications
The application period for the 2023 H. Albert Webb Memorial Railroad Preservation Award and the Mass Bay RRE Railroad Preservation Fund grants is now open.
Nonprofit, tax-exempt [Internal Revenue Code 501(c)(3)] organizations that preserve historically significant railroad equipment, structures or information from New England railroads are eligible to apply for the H. Albert Webb Award or a Mass Bay RRE Railroad Preservation grant.

See the Preservation Page for complete information about the H. Albert Webb Award and the Mass Bay RRE Grants and how to apply.
---
OTHER INFORMATION and NON-MASS BAY RRE ACTIVITIES:
See the DiscoveRail Page for tourist railroad schedules, railroad-related museum hours, and special events such as excursions and shows. These announcements also appear in our monthly newsleter, the Callboy.
See the Membership Page for information on how to Join Mass Bay RRE and an Application Form. <!/span>

<!span style="font-weight: bold"> Send an Email to Mass Bay RRE using the links on Contact Us Page.
See Other Divisions Page for information on other chapters of The Railroad Enthusiasts. For local RRE membership information, contact one of these Divisions near you. <!/span>
The Rail Links Page contains links to the sites of operating railroads, other railfan organizations, railroad museums, preservation groups, points of interest, and more.
---
MASS BAY RRE OFFICERS & DIRECTORS:
President: David W. Brown; Vice President: Richard Fralick
Secretary: Thomas Humphrey; Treasurer: Charles W. Jack
Directors: Steven Butterworth, W. Thomas Chase, William Crawford,
John W. Ehrlich, Alan MacMillan, Jr., Robert S. Popovac, Sue Waldron Sample
Alternate Director: Loring M. Lawrence

<!/blockquote>
<!font size="2"> <!p align="center">Massachusetts Bay Railroad Enthusiasts, Inc.
P.O. Box 4245
Andover, MA 01810-0814

Site maintenance by members of Mass Bay RRE.
Page updated on September 8, 2022
Join the Mass Bay RRE Email list! Enter your Email address below:

For Email Marketing you can trust
We send notices of all our Trips and Events to everyone on our email list. Mass Bay RRE membership is not required!


QUICK LINKS
EXCURSIONS
Sunday, October 30, 2022:
'Valley Steam Extravaganza 2022'
Double-Headed Steam-Powered Photo Event and Tour of the Line

EVENTS

MEMBERSHIP
Discounted admission at New England Tourist Railroads & Museums. For the expanded list of participating groups see our Member Benefits Page
SUPPORT
Donate to Mass Bay RRE
Your donation will support the Mass Bay RRE Railroad Preservation Fund or other club activities. Thanks to your donations, Mass Bay RRE has awarded $27,000 in grants to six organizations to support railroad preservation in 2022!
AWARDS
The application period for the 2023 H. Albert Webb Memorial Railroad Preservation Award and the Mass Bay RRE Railroad Preservation Grants will open in September, 2022.
See the PRESERVATION PAGE
for details and application instructions
OTHER
Read a tribute to our friend
Ralph Hawkins
<!TD WIDTH="36" VALIGN="TOP" bgcolor="beige"> <!/TD>