Ex New York Central RR wooden cupola caboose and 1920's-built tank car with 1960's Baker's Chocolate paint scheme on display track just east of preserved station. Photo by Vic Campbell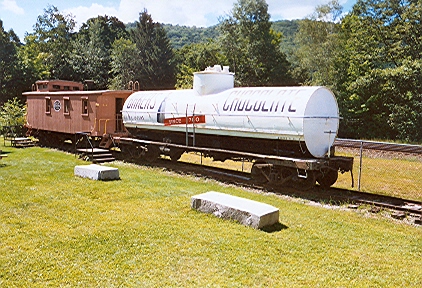 Gathering at Chester, Mass.
August 16, 2008
Photos by Vic Campbell
On August 16, Mass Bay RRE visited the Chester Station Museum in the preserved Western RR 1841 depot in chester, MA. The Chester station is a fine train-watching site on CSX amid the Berkshires.
"Whistler's Father" - Major George Washington Whistler, the father of artist James McNeill Whistler - laid out the "world's first mountain railroad" - the Western's 1841 crossing of the Berkshire hills. The work included ten keystone-arch, laid-stone bridges over the West Branch of the Westfield River. CSX uses two of these bridges today; three were bypassed when the Boston & Albany, successor to the Western, relocated its route through the Westfield Gorge in 1912-1913.
David Pierce, who has been working to preserve these bridges, and public access to them, led a walking tour of the remaining bridges for Mass Bay RRE members. Mass Bay RRE reserved Chester Station all day, and members were welcome to visit at any time, to see the museum collection indoors and inspect the freight cars outside.