Mass. Bay RRE officers Karl McKinney, Vic Campbell, and Dave Brown man the MBRRE Display and Information Tables on the station platform at Palmer Union Station, by the entrance to the Steaming Tender Restaurant. Doug Scott photo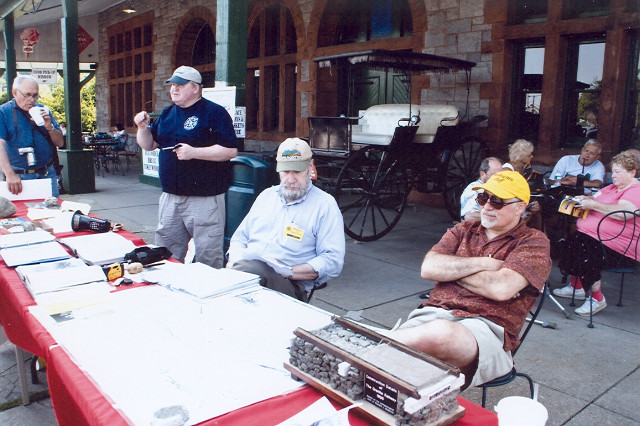 Gathering at Palmer, Mass.
July 12, 2008
Photos by Vic Campbell and Doug Scott
All interested fans were summoned to an all-day gathering at Palmer, Mass. for train watching and photography of CSX and New England Central freights, Mass. Central equipment, and Amtrak's Lake Shore Limiteds and Vermonter. Also available were Van Tours of the "live, dead and stillborn" rail lines of Palmer (7 steam, 2 electric) guided by local rail historians Phil Opielowski and Larry Lowenthal and Open House at the Palmer Library Railroad Research Center.
The site is the beautifully restored H. H. Richardson-designed Palmer Union Station (1884), owned and operated as the Steaming Tender Restaurant by Blake and Robin Lamothe. Here the visitors had the choice of eating food from the takeout window or brought from home at picnic tables on the platform, or enjoying a lunch or dinner in the restaurant, inside.