<!Mass Bay RRE's afternoon Griffins Local pauses for a photo stop at Day Hill Road in Bloomfield, CT, before returning to Hartford Union Station on Saturday, July 18, 2009.><!/b><!br /><!Photo by Dave Brown>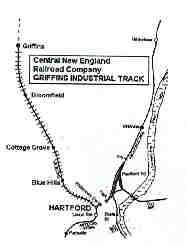 The Griffin's Local
Mass Bay RRE Snares Rare Mileage on Hartford's "Griffins Line"
July 18, 2009
Trip Report by Bill Crawford and Dave Brown
On Saturday, July 18, 2009 Mass Bay RRE sponsored two excursions, dubbed "The Griffins Local," from Hartford to Griffins, CT, a distance of approximately 8.7 miles. A morning trip was planned to depart Hartford Union Station at 10:00 AM and an afternoon trip at 2:00 PM. One of our mileage collecting members contacted the Trip Committee in early April after seeing an ad for this summer's National Model Railroad Association convention in Hartford. Their early July event included "prototype tours" of the Central New England Railroad's (CNZR) Griffins Industrial Track to Griffins, in the town of Bloomfield, CT. Although the NMRA ran two trips on the Thursday of the convention, few mileage collectors could participate in those trips because of date conflicts, the mid-week schedule, and because the trips were expensive for non-NMRA convention participants (NMRA policy requires that event participants must be convention registrants). So, with passenger equipment, liability insurance and a willing railroad management apparently available to us, the Trip Committee contacted CNZR and requested trips to the end-of-track at Griffins to be run on Saturday, July 18, a week after the NMRA convention. The railroad's management was enthusiastically receptive to our proposal.
The Griffins Line is a remnant of the Central New England Railway, which had its eastern termini in Springfield, MA, and in Hartford. The CNE was built across northern Connecticut in the 1870's-1880's thru Canaan, CT, to Rhinecliffe, NY, and later over the Poughkeepsie Bridge to Campbell Hall, NY. Along with almost every piece of railroad track in Connecticut, the CNE became part of the New York, New Haven & Hartford early in the twentieth century. Today, the principal customer on the Griffins Industrial Track is the Home Depot regional distribution center at MP 7.5, serving Home Depot outlets across New England and the eastern part of New York. CNZR has operated the Griffins Line since 1999; the line is owned by the State of Connecticut.
From a mileage collector's viewpoint, track doesn't come much more "rare" than the line to Griffins. The Trip Committee checked with a number of knowledgeable New England railfans, but none of them knew of a railfan excursion ever having been operated on this line. We did locate three railfan mileage collectors who had ridden to Griffins. All of them did it in company service, and two of them, Al Butler and Paul Morrissey, rode with us again on July 18.