Photo line for the double runby at Jericho Bridge.
(Photo by Doug Scott)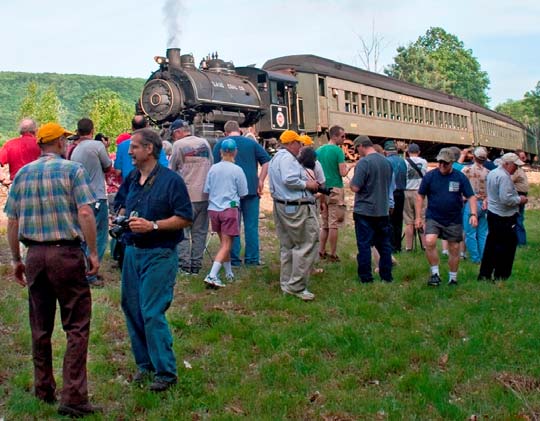 Steam on the "Naugy" Photographers Special
May 30, 2010
Story By John Reading
Photos by Doug Scott
Measured solely by "new miles," Mass Bay RRE's May 30 Steam on the 'Naugy' Photo Special may be the shortest fantrip our club ever sponsored. From its origin at Naugatuck headquarters in Thomaston, CT to below Jericho Bridge, our three-car train with "Flagg Coal" 0-4-0 75 covered only 4.1 route-miles – even shorter than one trip around the former Edaville loop in South Carver … and at first, backwards!
But once engineer Al Galanty threw 75's reverse lever forward, while fireman (and Mass Bay RRE Director) Louis Edmonds coaled his fire for the initial runby, no one there really cared how long or short the trip might be. With a tiny headlight blazing atop her fat boiler, under a high-flung pillar of black soft-coal smoke, 75 came hammering north past the cameras, showing her passengers how the railroaders of the early 20th century did it.
The idea for a Mass Bay RRE "Naugy" photo special came to our division's President in January, when NAUG President Howard Pincus announced the railroad would bring "Flagg Coal 75" to Thomaston in the spring. The husky 0-4-0T was built for Flagg Coal Company of Avoca, PA in December 1930, by Vulcan Iron Works of nearby Scranton. Originally numbered Flagg 2, the 0-4-0 became 75 when it was sold in 1935 to Solvay Process Co. to work in a quarry near Jamesville, NY. After Solvay Process dieselized, 75 went to the planned Rail City Museum in Sandy Pond, NY, where it sat unused until 1991. John and Byron Gramling of Ashley, IN purchased it that year and spent a decade restoring it. 75 moves from place to place on a heavy-duty flatbed truck.
Besides 75, our special included three heavyweight steel coaches: ex-Canadian National 4980, 4992 and 5046, all riding on six-wheel trucks. At 4 PM, after our staff and the NAUG train crew boarded 80 riders, 75's shrill whistle blasted three times and we began backing to Jericho Bridge.