THE MASS BAY RRE RAILROAD PRESERVATION FUND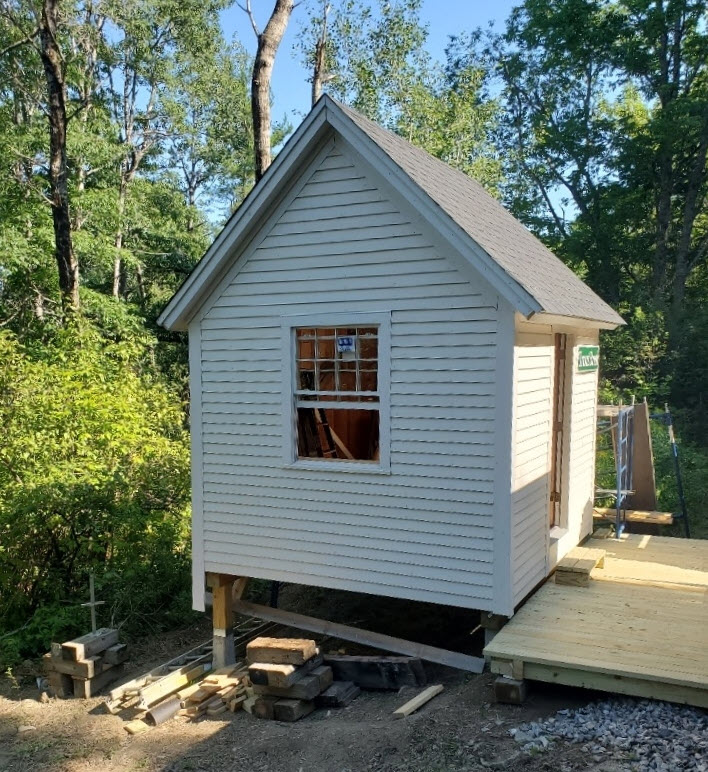 Mass Bay RRE established the Mass Bay RRE Railroad Preservation Fund in 2016 to support worthy projects to preserve historically significant railroad equipment, structures, information or artifacts in New England. One or more grants, generally not exceeding $5000, will be awarded annually, funded by donations to the fund and income from the Fund's endowment.
Each year, Mass Bay RRE designates its largest Preservation Fund grant or grants as "The Ralph S. Hawkins Memorial Railroad Preservation Grant" to preserve and honor the memory of our dear friend, Ralph Hawkins.
In 2022, Mass Bay RRE has awarded $27,000 in grants to six organizations, thanks to the generosity of our members and friends. This includes three $4,000 grants. Since its inception in 2016, the Mass Bay RRE Railroad Preservation Fund Grants has made grants totaling $127,000 to help preserve New England railroad equipment, structures and artifacts.
The 2022 Mass Bay RRE Railroad Preservation Fund grant recipients are:
The 2022 Ralph S. Hawkins Memorial Railroad Preservation Grant
• The Wiscasset, Waterville & Farmington Railway Museum of Alna, Maine, received $10,000 to construct a WW&F flag stop station at the northern terminus of the restored Mountain Extension. The new station, constructed in the style of flag stop stations historically found along the WW&F, was substantially completed in time for the August 6, 2022 inaugural run over the Mountain Extension (top photo). This $10,000 grant was the largest single grant ever made by the Mass Bay RRE Railroad Preservation Fund.
2022 Mass Bay RRE Railroad Preservation Fund Grants
• Greenville Junction Depot Friends of Greenville, ME, $5,000 to renovate portions of the freight house part of the historic depot, including new kitchen and rest room facilities. The depot, on the southwestern shore of Moosehead Lake, is an arresting structure, one of five of its kind in New England and the only one in Maine. The building's significance rests in its Queen Anne style, its historic function, and its association with the Canadian Pacific Railway. (middle photo, courtesy Greenville Junction Depot Friends).
• The Boston Street Railway Association of Boston, MA, $3,500 toward completion of car body and interior restoration work on Boston Elevated Railway Type 5 Streetcar #5706.
• New England Steam Corporation of Winterport, ME, $5,000 toward the first phase of boiler work on Maine Central steam locomotive No. 470.
• Shelburne Falls Trolley Museum of Shelburne Falls, MA, $2,000.00 for its ongoing car barn extension project.
• The Baltimore Streetcar Museum of Baltimore, Maryland, $1,500 for traction motor repair on Baltimore Transit Company PCC streetcar 7407 (bottom photo). Car 7407 was constructed at the Pullman-Standard Facility in Worcester, MA in 1944.
The application period for the 2023 Mass Bay RRE Railroad Preservation Grants is now open,
and will close on December 5, 2022. (DEADLINE
EXTENDED

!)
See the Preservation Page for details and application instructions.

Donations to the Mass Bay RRE Railroad Preservation Fund are welcomed! Your donation will help us fund additional worthy railroad preservation projects. Donors may choose to designate their gift to the Preservation Fund Endowment or to be used to fund grants directly. Endowment funds are invested to provide an annual income to be used for preservation grants. Investment income will be supplemented each year with donations to Mass Bay RRE, including all donations designated for direct grants. All donations to the Mass Bay RRE Railroad Preservation Fund are tax-deductible to the extent allowed by law.
We accept Visa, MasterCard, American Express and Discover for all donations.
Site maintenance by Members of Mass Bay RRE.
Page updated November 11, 2022
<!td width="290" valign="top" bgcolor="burlywood" > <!td width="10" valign="top" bgcolor="burlywood" >




<!TD WIDTH="36" VALIGN="TOP" bgcolor="beige"> <!/TD>