Don't miss Mass Bay RRE's rare mileage train excursion:
'South Coast Explorer'
(Boston) - Middleboro - Cotley Jct. - New Bedford - Myricks - Fall River - Cotley Jct. - Attleboro & Return
One day only - Saturday, October 12, 2019!
Trip update 8/13/2019: We have received late word that the contractor doing culvert work on the line in preparation for South Coast Rail plans to work between Myricks and Fall River on Oct. 12. Therefore, it is likely (but not 100% certain) that we will not be able to cover this segment as planned. All other segments of the trip will operate as planned.
IMPORTANT NOTICE 9/27/2019:
The Cape Cod Central Railroad has made an additional car available to us for this trip.
A limited number of seats are no available in all classes of service.
DON'T DELAY - ORDER TODAY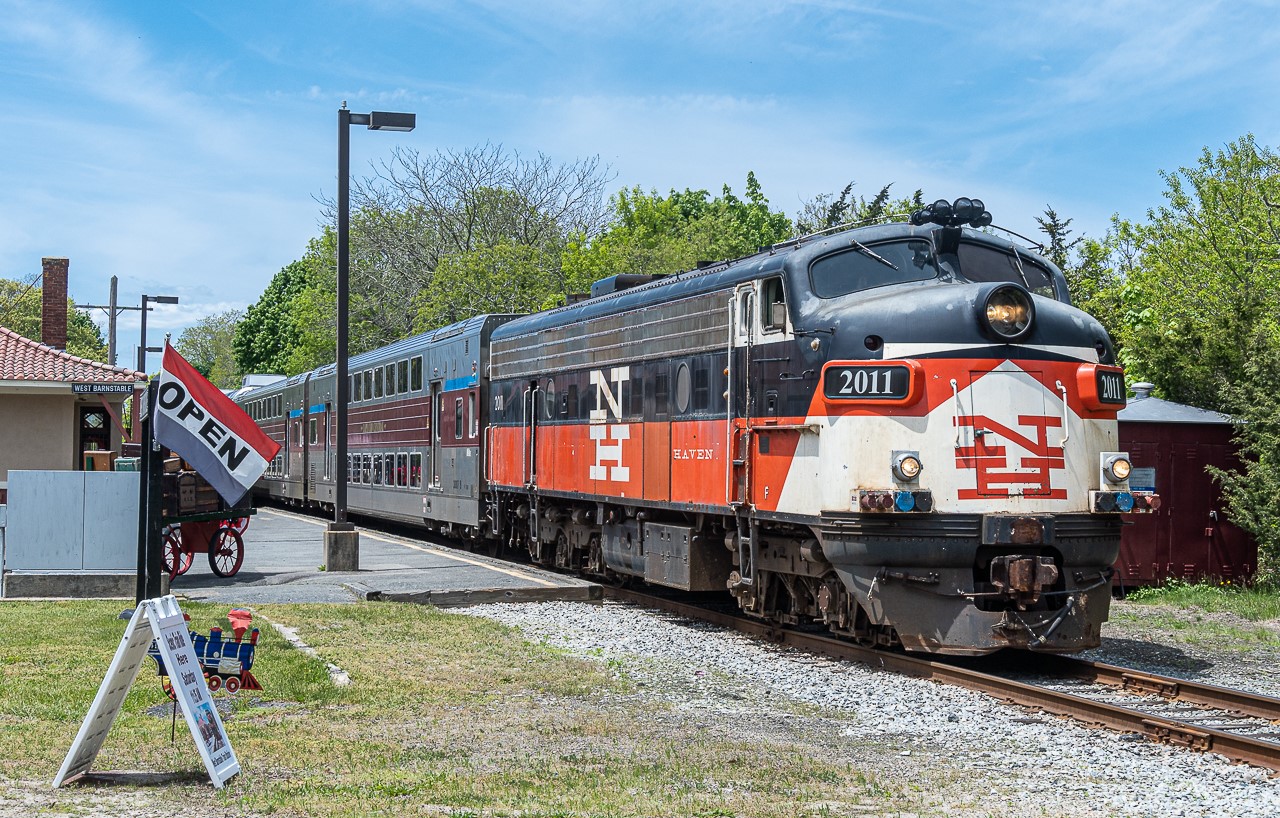 Mass Bay RRE returns to southeastern Massachusetts for our first train excursion to New Bedford in over a half-century. Our specially-chartered 'South Coast Explorer' train continues our 85-year tradition of offering special train excursions to the public and offers a preview of the Phase 1 route of the MBTA's South Coast Rail, scheduled for completion in late 2023.
Our train will depart from the MBTA's Middleboro/Lakeville commuter rail station at 10:00 AM. From Middleboro we'll head west to Cotley Junction, in the city of Taunton. There we'll reverse direction, heading southward to Myricks Junction and New Bedford. After a stop for photos, we'll return to Myricks and head south to Fall River, where another photo opportunity awaits. After leaving Fall River, our train will return to Cotley Junction and head west to Attleboro. We'll then return to Middleboro, arriving there around 6:00 PM. One or two photo runbys are planned at suitable locations en route, as schedule and operating conditions allow.
This will be the first publicly-offered passenger train to go all the way to New Bedford since our October 1967 excursion, that also went to Fall River and all the way to Newport, RI, and it will be our first trip between Taunton and Attleboro since May, 1980.
Our train will consist of two former Long Island Railroad C1 bilevel coaches and a former Atlantic Coast Line lounge car that will offer First-Class table seating, including complementary snacks and beverages. Motive power will include one classic former New Haven FL-9 locomotive. Current Mass Bay RRE members are eligible for discounted fares, as described in our Member Benefits policy. See our web site for complete details and membership information. (Mass Bay RRE membership is not necessary to ride this trip.)
Left: Coach seats. Right: First Class Lounge Car table seats.


Train capacity is limited! All seats are reserved and will be assigned in advance. Passengers wishing to sit together must order tickets together as a group. Box lunches are available for advance purchase, or you may bring your own food. Light snack and beverage service will be available on board the train.

This trip operates ONE DAY ONLY, rain snow or shine. All sales are final and tickets are not refundable. Tickets will be mailed to you about 10 days prior to the trip. Directions to the departure location in Middleboro will be sent with your tickets. Please notify us before ordering if special accommodations (handicap seating, etc.) are required.

ABOUT THE DATE:

Early teasers that were published in Callboy listed the date for this trip as a week later. As we were finalizing arrangements for the trip, it was learned that ongoing culvert work on the South Coast lines, part of the early construction for Phase 1 of the South Coast Rail project, precluded operation on any weekend other than the Columbus Day holiday weekend. Hence the late change of date. Mass Bay RRE regrets any inconvenience caused by this change.

COMMUTER RAIL CONNECTION

Boston-area passengers may make a guaranteed connection to our excursion train at Middleboro using MBTA train 1001 from Boston's South Station, Braintree and other stops along the Middleboro line. We'll return to Middleboro in time for connecting passengers to catch MBTA train 1014 back to Boston at 7:04 PM. Passengers must purchase commuter rail tickets individually.

FARES:

Saturday, October 12, 2019 'South Coast Explorer' Train Excursion:

Upper Level Coach Seating (Reserved seats, boarding at Middleboro, MA)
Adult MBRRE Member Upper Level Coach Fare.................................................... $79*
Adult Non-member Upper Level Coach Fare............................................................$89
Youth Upper Level Coach Fare (ages 18 & under) .................................................$49

Lower Level Coach Seating (Reserved seats, boarding at Middleboro, MA)
Adult MBRRE Member Lower Level Coach Fare.................................................... $64*
Adult Non-member Lower Level Coach Fare............................................................$74
Youth Lower Level Coach Fare (ages 18 & under) .................................................$39

First Class Lounge Car Table Seating (Reserved seats, boarding at Middleboro, MA)
Adult MBRRE Member First Class Lounge Car Fare............................................. $129*
Adult Non-member First Class Lounge Car Fare.....................................................$139
Note: No Youth Fare for First Class seating!

*One discounted seat per member, except as noted in our Member Benefits policy.

BOX LUNCHES:

Box Lunch (indicate sandwich choice when ordering) ..............................................$14
The box lunch consists of a sandwich, chips, dessert & bottled water. Sandwich choices are as follows:

- Roast Beef Wrap – Includes roast beef, lettuce, and tomato on a white pita wrap. This is served dry with mini packets of mayo and mustard on the side.
- Turkey Wrap – Includes turkey, lettuce, and tomato on a white pita wrap. This is served dry with mini packets of mayo and mustard on the side.
- Organic Veggie Wrap – Includes tomato, lettuce, sprouts, creamy Italian dressing, avocado, swiss, and provolone cheese. This is served on a white pita wrap.

HOW TO ORDER:

ORDER ON LINE! 'SOUTH COAST EXPLORER' ON-LINE ORDER FORM Pay with PayPal or with your Visa, MasterCard, American Express or Discover card using our secure on-line system.

MAIL ORDER: Download a printable copy of the Trip Flyer and Order Form and mail it with your payment to: Mass Bay RRE, P.O. Box 4245, Andover, MA 01810-0814. Make checks payable to "Mass Bay RRE." Please enclose a self-addressed, stamped business-size envelope for return of your tickets. If paying by credit/debit card, be sure to include complete card number, card billing address, expiration date and CVC Code (3 digits on back of card, 4 digits on front of American Express cards). Please note that for mail orders, checks will be deposited shortly before your tickets are mailed to you in late September.

BY TELEPHONE: Telephone orders are accepted at 978-470-2066, Monday through Friday from 9:00 AM to 7:00 PM. We accept Visa, MasterCard, American Express and Discover cards.

Full particulars of the tour and directions to the boarding location will be mailed with your tickets about sevendays before the trip. For further information please call our information line at 978-470-2066, or send e-mail to: trips@massbayrre.org.

Mass Bay RRE is a non-profit [501(c)(3)] Massachusetts educational corporation.

Page updated September 30, 2019

<!td width="290" valign="top" bgcolor="burlywood" > <!td width="10" valign="top" bgcolor="burlywood" >