THE H. ALBERT WEBB MEMORIAL RAILROAD PRESERVATION AWARD
Mass Bay RRE member Leigh Webb created the H. Albert Webb Memorial Railroad Preservation Award in 2000 to recognize his father's love for New England railroading. Mass Bay RRE acts as Mr. Webb's agent in soliciting applications for the award, reviewing the complete applications, and administering the grants as they are used.Nonprofit, tax-exempt [IRC 501(c)(3)] organizations that preserve historically significant railroad equipment, structures or information from New England railroads are eligible to apply. The successful applicant receives a single $10,000 grant.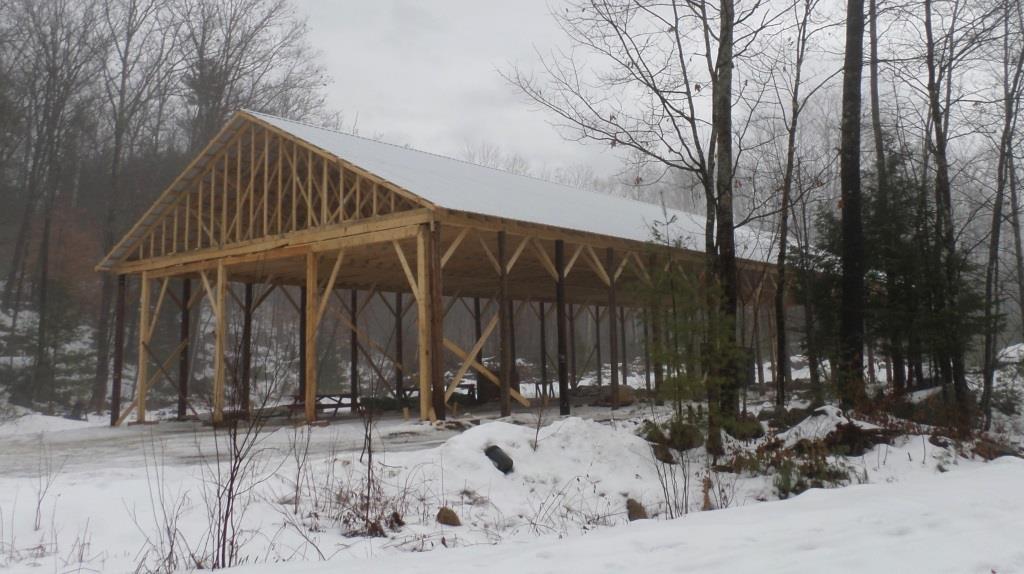 The Sandy River & Rangeley Lakes Railroad of Phillips, Maine, was the recipient of the 2020 H. Albert Webb Memorial Railroad Preservation Award. This $10,000 grant enabled the SR&RL to complete construction of a three-stall car storage building, including the purchase of needed track materials. Photo at right: The entire roof of the SR&RL Car Barn is up, sheathed and has passed town ispection, in this photo taken December 10, 2019. (Photo by Al Houghton, courtesy SR&RL)
The SR&RL has a unique collection of three passenger cars, six freight cars, and three company cars, all built before 1917. This roster includes cars from seven builders, six of them in New England. There are also two excursion cars and a caboose that are newer. They also have an assortment of track cars that are over 100 years old.
Despite having an eight-stall roundhouse, the SR&RL still has 9 antique cars (5 freight cars, 2 cabooses, a flanger and an excursion car) stored outdoors in Maine's heavy snows. This project, coming to fruition after 20 years, will allow year-round storage of this equipment, saving it for future generations.
Completed projects since 2001 funded (entirely or in part) by H. Albert Webb Award grants include:
Installation of a lavatory & generator to complete the restoration of Delaware & Hudson RR Combine #102 by the Downeast Rail Heritage Preservation Trust, Inc. of Ellsworth, Maine.
Boiler repairs needed as part of the restoration to operating condition of ex-Bridgton & Saco River steam locomotive 7 (Baldwin, 1913) by the Maine Narrow Gauge Railroad & Museum in Portland, ME.
Completion of interior and exterior restoration of the historic Newfane Railroad Station in Newfane, Vermont, by the Historical Society of Windham County, Vermont, Inc.

Repair and restoration of the exterior siding, trim, slate roofing and windows on the 1867 Shelburne Falls Freight House in Shelburne Falls, MA by the Shelburne Falls Trolley Museum, Inc.
Rehabilitation of four traction motors in Union Street Railway RPO Car 302 by the Branford Electric Railway Association, Inc., of East Haven, Connecticut, better known as the Shore Line Trolley Museum
Stabilization of the foundation of the historic Brooks Station, located on the route of the Belfast & Moosehead Lake Railway, by the Brooks Preservation Society of Brooks, Maine.
Expanding the equipment storage and repair building at the Wiscasset, Waterville & Farmington Railway Museum in Alna, ME.
Scanning and preserving, in digital form, 5000 historic New England railroad images from the Walker Transportation Collection at the Beverly Historical Society, Beverly, MA.
Restoring Atlantic Shore Line electric locomotive 100 to operating condition at the Seashore Trolley Museum, Kennebunkport, ME.
Restoring the interior of Pullman bedroom-lounge car Pine Tree State, the last sleeping car built for the New Haven Railroad, now at the North Carolina Transportation Museum, Spencer, N.C.
Reconstructing a quarter-mile of track along the grade of the first U.S. two-foot-gauge common-carrier railroad, by the Friends of Bedford Depot Park, Bedford, MA.
Projects in progress include:
Completion of the "Mountain Extension" of the Wiscasset, Waterville & Farmington Railway Museum of Alna, Maine, to the new Trout Brook Preserve station at Route 218. The H. Albert Webb Award enabled the WW&F to purchase track materials and services needed to complete the project.
Purchase and installation of wire & conduit for the motor circuit controls on Bay State Street Railway Car 4175 (Laconia Car Company, 1914), along with other running gear repairs, at the Seashore Trolley Museum.
Replacement of the ties and timbers on the deck of the Danbury Railway Museum's 1917-vintage New Haven Railroad turntable in Danbury, Connecticut.
Restoration of the body shell of former Maine Central Railroad Alco S1 diesel locomotive 954, built in January 1945 and now a valued part of the Berkshire Scenic Railway Museum's operating collection of historic railroad equipment.
Restoration to operating condition of Boston Elevated Railway "Type Five" streetcar 5706, owned by the Boston Street Railway Association.
Rebuilding and installing a replacement engine in Naugatuck Railroad (ex-Boston & Maine) GP9 diesel locomotive 1732, at the Railroad Museum of New England, Thomaston, Conn.
Restoration to operating condition of Boston & Maine P-4-a 4-6-2 steam locomotive 3713, part of the collection at the Steamtown National Historic Site, Scranton, PA
Applications for the 2021 H. Albert Webb Memorial Railroad Preservation Award are now being accepted.
For details on how to apply, please see the Preservation Page.
Site maintenance by Members of Mass Bay RRE.
Page updated August 23, 2020

<!td width="290" valign="top" bgcolor="burlywood" > <!td width="10" valign="top" bgcolor="burlywood" >




<!TD WIDTH="36" VALIGN="TOP" bgcolor="beige"> <!/TD>