Tower at Buzzards Bay stands watch as early passengers arrive.
(Photo courtesy Phil Johnson)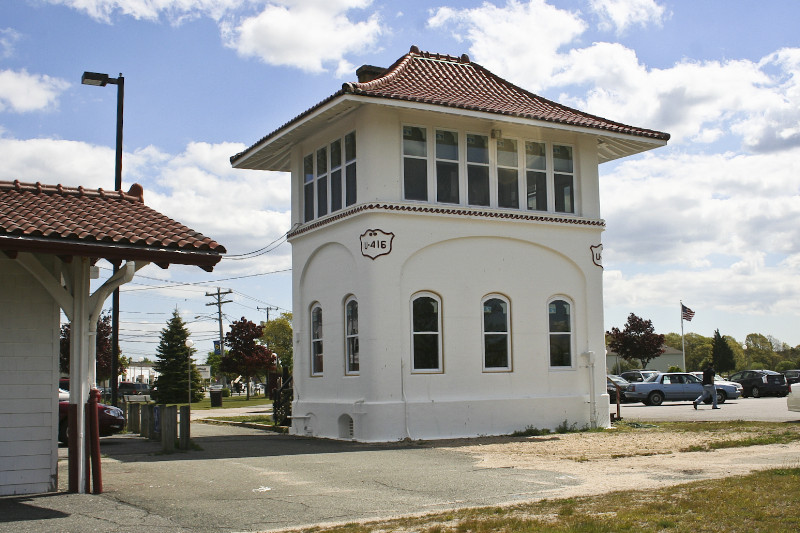 The Day Cape Codder
May 15, 2010
Story By John Reading
Fantrips rarely come better than this.
Good weather – comfortable equipment with CLEAN windows – numerous photo stops – "rare mileage" for the collectors – onschedule running – friendly welcomes aboard and along the way!
That was Mass Bay RRE's May 15 Day Cape Codder, our first major trip to Cape Cod since the 1980s, carrying 257 passengers and our Mass Bay RRE staff. Our train officially originated at Buzzards Bay, MA (though some riders boarded earlier in the day, at Hyannis or West Barnstable.) The "official" trip ran from Buzzards Bay to Middleboro for an MBTA connection, then back to Buzzards Bay, on to West Falmouth, over to Hyannis, and back to Buzzards Bay with a stop at West Barnstable.
Riders gathered at Buzzards Bay more than an hour before departure – some were in time to see Mass Coastal Railroad's "energy train" (formerly, its "trash train" …) going down-Cape empty, returning from the SEMASS trash incinerator in nearby Rochester. Announced departure time for our special came and went, but at 8:25 AM the 544-foot lift span of the towering Cape Cod Canal bridge began descending. Our seven-car train soon pulled across the Canal to pick us up. On the north end (railroad west) was MC GP9 2008, followed by kitchen/generator car 250, table cars 203 Race Point and 201 Sandy Neck; coach 101 Barnstable, snack-bar-coach 102 Sandwich, coach 103 Bourne, and parlor/lounge 200 Cape Codder. No sooner had we piled aboard than 2008 whistled off and headed for Middleboro.