BARE-LY IN THE SNOW: Conway Scenic's ex-Maine Central GP7 573 pulls Mass Bay RRE's January 2, 2011 Steam in the Snow photo special "by the tail" to Notchland, near Crawford Notch, where the steam run south began. Parlor-observation Gertrude Emma is directly behind 573. Doug Scott took this photo at Cobb Road in Bartlett, NH with the "Second Iron" steel truss bridge across the Saco River in the background.
Photo for Callboy by Doug Scott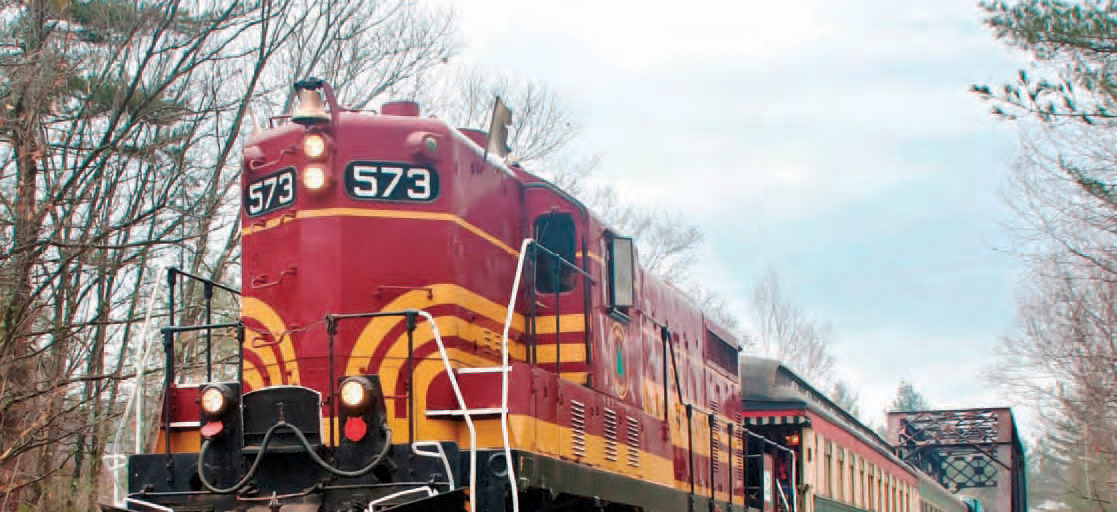 Steam In the Snow
at Conway Scenic Railroad
January 2, 2011
by Dave Brown, Trip Director
Actually, it was Steam Without the Snow. But it was still pretty good.
While Boston suffered under an 18-inch post-Christmas snowblast, up-country New Hampshire received less than half that – then an early-winter thaw before New Year's weekend washed away most of what did fall. For the 290 riders (many experiencing their first Mass Bay RRE event) and staff aboard our fourth Steam in the Snow photo special at the Conway Scenic Railroad, January 2 became a day for "mood shots" mingling soft-coal smoke, drifting steam and cloudy skies – still better than the all-day rain in the overnight forecast.. But the footing was easier at our five photo stops, there was ample room to seek out the "perfect angle," and most riders realized Mass Bay RRE and Conway Scenic had no control over the weather.
The crowd gathered at North Conway about 9:30 AM, where we found our train lined up (south to north): ex-Canadian National/Grand Trunk O-18a 0-6-0 7470 (Pointe St. Charles, 1921), coaches Mount Willard, Mount Willey and Mount Bemis, ex-Great Northern dome car Dorthea Mae, first-class coach Carroll P. Reed, parlor-observation Gertrude Emma, and former Maine Central GP7 573. We distributed box lunches on the platform before departure, simplifying the process for all.
We pulled out of North Conway on time at 10:30 AM for the run to Notchland behind 573 over the ex-Boston & Maine Conway Branch and the ex-Maine Central "Mountain Subdivision." At Notchland, 573 cut off and moved upgrade, out of view of photographers along the road to the Notchland Inn.