Far end of the trip, at MP 101 from Portland.
Photo by Sudro Brown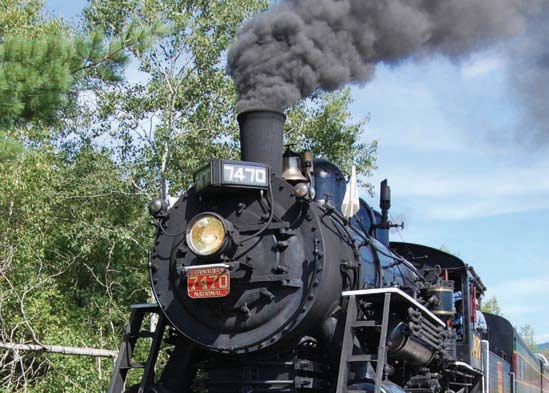 Mass Bay RRE's North Country Steam Special
It was only a short run from Quebec Junction to Airport Road in Hazens, where Conway Scenic meets the remnant of B&M's Berlin Branch that ran from Woodsville, NH to Berlin. Mass Bay RRE traveled that line in May 1982, but most of it has been abandoned since, except for the section from Littleton to Waumbek Junction. After pulling across Airport Road, 7470 backed east to make what British railfans call a "false arrival", coming back to MP 101 before the massed cameras. Our Boston-bus group left us here, to make a ceremonial visit to the last U.S. ball signal at Whitefield before heading south for an evening arrival.
252 soon emerged from the woods behind us and coupled to the rear of Silver Cascade for a direct run to North Conway. Given the multiple photo stops and one water stop, it took 7470 six hours to reach Hazens from North Conway; 252 would make it back in just over three hours (including time for a brake test before descending Crawford Notch).
With the photo efforts complete, the trip back to North Conway was a chance for "riding and reminiscing," among the mountains clearly in sight all around us. We passed the Fabyan depot, now converted to a restaurant (several of us dined there the night before), made the 2% climb to Crawford's, then headed down the Notch. 252's whining dynamic brakes kept the train in check; 7470 was just along for the ride, using barely enough steam to wet her cylinders. At North Conway, light enough remained for a few photos as 252 and 7470 switched our train and tied up for the night. It was late – though not that far off the scheduled time – but no one seemed to care.
Will we do it once again? Maybe, in another four years …